Two Expos Upcoming | See you in Thailand!
Release Date 2023-09-01
Tianlong Technology will be participating in two expos "Thailand LAB International" and "Medical Fair Thailand" to be held in Bangkok, Thailand this coming September!
Thailand LAB International
Dates: Sep 6 to 8, 2023
Venue: BITEC, Bangkok, Thailand
Booth No. 3G17
Thailand LAB International is a new laboratory industry exhibition in Southeast Asia, and also a important platform for enterprises to open the Thai market, aiming to promote scientific research and innovation.
Medical Fair Thailand
Dates: Sep 13 to 15, 2023
Venue: BITEC, Bangkok, Thailand
Booth No. T05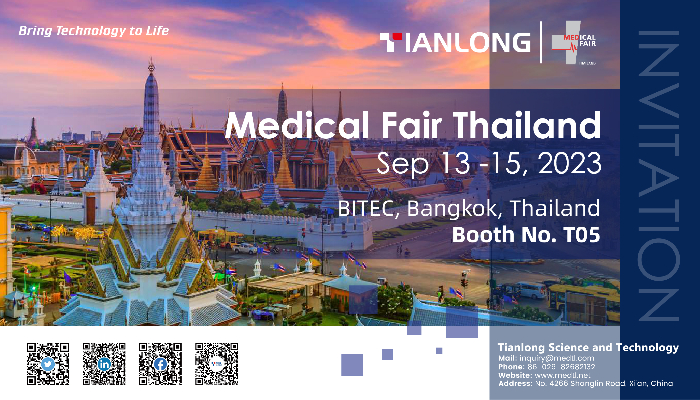 Medical Fair Thailand is one of the most professional and well-known medical exhibitions in Thailand, showcasing the latest instruments, equipment, products and services in the medical field worldwide.
As an innovative leader in the field of molecular diagnostics in China, Tianlong has been committed to providing comprehensive solutions for the industry. Tianlong's professional R & D team has been committed to promoting the innovation and breakthrough of molecular diagnostics industry technology.
Tianlong will be participating with our excellent products and solutions including iGeneCase 1600 Diagnostics-in-a-Suitcase (GeneFlex Automatic Nucleic Acid Extractor and Gentier Mini Series Portable Real Time PCR System), Panall 8000 all-in-one molecular diagnosis system, PANA 9600X Automated Nucleic Acid Workstation, and a variety of products and compatible reagents. We are pleased to discuss cutting-edge trends and innovative developments in molecular diagnostics with industry experts, partners and customers.
During the exhibition, our team will provide professional consultation and technical support. We look forward to meeting you in person. We believe that through the participation and exchange, we will be able to further deepen the cooperative relationship with customers and partners, and make greater contributions to the development of the industry.We look forward to seeing you in Thailand to share and engage!